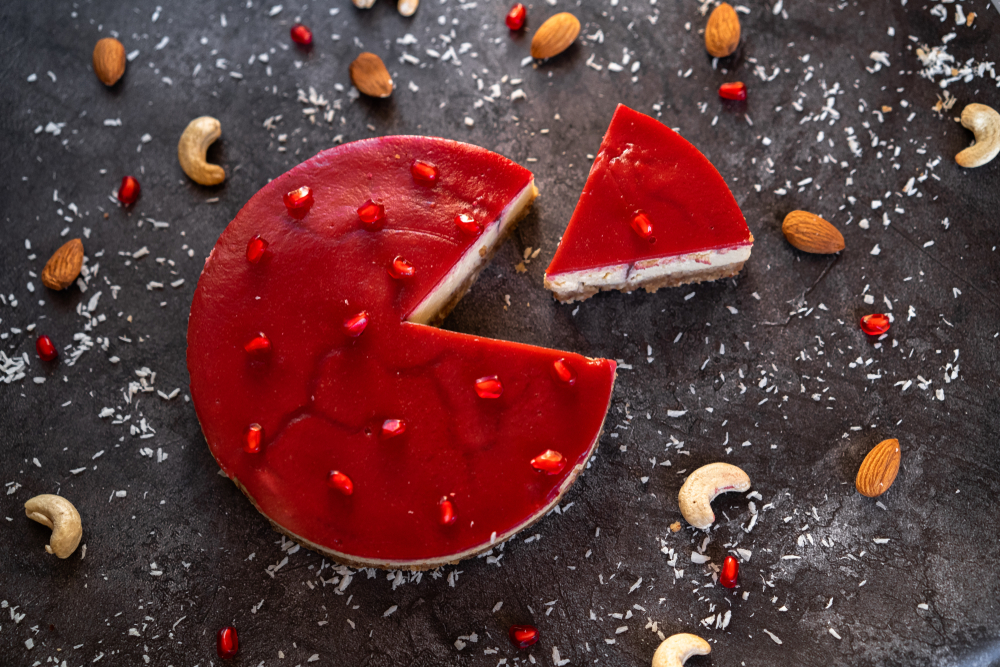 Cheesecake with pomegranate sauce
Preparation
First, the cookies, powdered sugar and salt are blended in a blender until they become powdery. Next, the butter is added and mixed. The mixture is placed on an oiled baking dish and baked in the oven for about 15 minutes until browned.
The cream cheese is beaten with a mixer. Next, powdered sugar and vanilla are added. Then the eggs are beaten, one at a time, and sour cream is added at the end. The mixture is poured on the ready, cooled dough and baked in the oven at 150° for 1 hour. After cooking it is cooled at room temperature for 2 hours and kept in the refrigerator for at least 6 hours.
For the sauce, pomegranate juice and powdered sugar is boiled for 15 minutes, and after cooling pomegranate seeds are added. This mixture is then added to the cheesecake and served.
Ingredients
For the batter:
5 tablespoons of melted butter
12 pieces of plain cookies
1/4 cup of powdered sugar
1/4 teaspoon of salt
For the filling:
225g of cream cheese
1 1/4 cup of powdered sugar
1 package of vanilla
4 eggs
1/2 cup of sour cream
For the pomegranate sauce:
2 cups of pomegranate juice
1/4 cup of powdered sugar
1/2 cup of pomegranate seeds